OBX Birthday Parties
Birthday parties on the Outer Banks are a blast at Jumpmasters! Jump into your next birthday party with a private party room & host, our Airborne Party includes pizza, drinks, a special birthday gift, and jump socks. Give us a call to plan your next event now! We specialize in OBX birthday parties, graduations or any epic celebration that you can come up with! Our Trampoline Park has the perfect setting for engaging, healthy and fun birthday party activities. Time after time, we see children of all ages having an incredible experience with their friends. Our passion is creating a setting for your OBX Birthday to be a one-of-kind happening for your kids.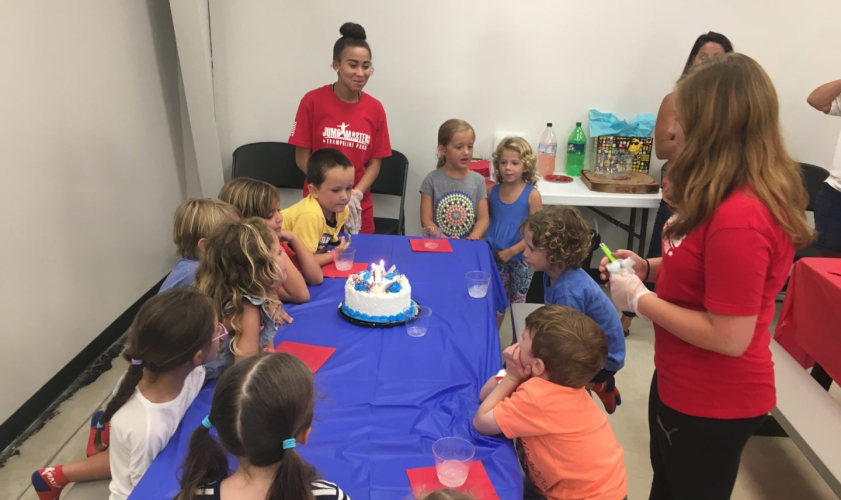 Jumpmasters Birthday Parties
Pizza
What's an Outer Banks birthday party without pizza! Each OBX Party includes 2 large 1-topping pizzas.
2 Hours of Fun
Get up to 2 Hours of Jumping with 2 hour access to the OBX party room while you jump.
Beverages
Keep your body hydrated. Our package includes water for all the party jumpers. We also have 2-liter sodas and juice that can be purchased.
Private Host
We'll make sure your OBX Birthday Party runs as smooth as possible, we are here to setup, run and clean. After all, a special moment requires special attention!
* Jump time and party room time cannot be adjusted, you must arrive 15 minutes early.
AIRBORNE AND PLUS PARTY PACKAGE
Example Party booked from 11:00 AM- 1:00 PM 2- hours of Park Access Party Table time -1 hour 40 min
Check in and receive wrist bands, socks and verify waivers
Ready, set, get airborne!
Party Room Time ENDS, room will be cleared, shoe bin, presents and remaining food will be moved to separate table outside of party room.
Jump time ENDS and the party moves to the gather there shoes to depart until next time.
** Jump time and party room time cannot be adjusted, you must arrive 15 minutes early.
HAVE ANY QUESTIONS?
252 423 3177